SSSDW01.2 -03 $30.00
The second edition includes the DVD only.  The first edition of this DVD included a printed booklet.  That is now included on the DVD as a PDF so you can print the booklet or view on a computer.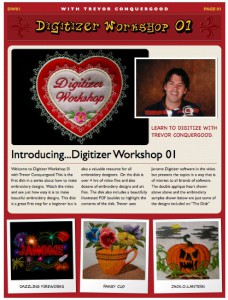 Digitizer Workshop is a video magazine about how to make embroidery designs.  Digitizer Workshop 01 is the first of a collectable series that includes a booklet and a DVD disk with designs and instructional video.  Watch the video and see just how easy it is to make your own beautiful embroidery.  The well illustrated 20 page booklet showcases the contents of the disk.  Digitizer Workshop is a great introductory step for a beginner and also a valuable resource for the experienced designer.  There are over 4 hours of video on the disk and 20 beautiful embroidery designs.
Topics include:
Introduction to Object Based embroidery
Types of fill and line stitches
Density and Stitch length
Types of underlay
Shortened stitches and stitch angle
Pathing, Layering, Overlapping
Automatic and hands on digitizing
Blending Color and open density