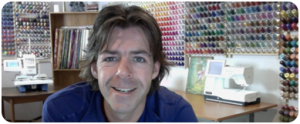 My name is Trevor Conquergood, welcome to my embroidery blog. Sunset Stitches is the name of my business and what I call my embroidery studio. I thought the name had a nice ring to it and it made sense because I love to embroider and also to take photos of the sun set. I took all of the sunset photo's you see on my website and on my DVD packages.
I learned to Digitize from my father in 1984. Dad (George) bought his first embroidery machine in 1980 a Meistergram. The family business grew and in 1984 we began to offer "punching" (embroidery digitizing) as a service. George began to sell commercial embroidery machines for Barudan and each new sale became a new client for designs. By 1990 I was manager of a design team of 10 people all drafting, punching or proofing embroidery designs.
Stitchitize became a well respected design house known for high quality designs. By the year 2000 Stitchitize had expanded into the home embroidery market offering designs in all domestic and commercial formats. Today Stitchitize is a premier design source and is still owned and operated by my family. I think Stitchitize is one of the largest family owned embroidery collections in the world.
As manager of a team of embroidery designers I gained valuable knowledge of "The Art of Digitizing Embroidery". I learned to use many brands of software and gained a reputation as an excellent teacher. In 2000 I began to teach people to digitize in both the commercial and home embroidery markets. I have travelled extensively in Canada and the United States to attend embroidery shows and conventions. Internationally I have visited Austraila, Germany, Japan, Norway, Sweden, Taiwan and Thailand to offer embroidery education. From 2000 to 2009 I produced a family blog called "Club Stitchitize" offering free designs and family photos to users of the Stitchitize website. In 2006 Trevor authored "The Learning Studio" an on line school for digitizers.
In 2008 Trevor started Sunset Stitches with the objective of sharing embroidery knowledge. Janome has been very supportive of Sunset Stitches and has distributed DVD video guides produced specifically for Janome Software. In 2010 I produced Digitizer Workshop, a series of DVD videos with projects and lessons. Also in 2010 I produced DigiTalk a series of on line classes specifically for users of Janome Digitizer Software. The archives of these popular on line classes are found on the Digitizer Workshop DVD's.
Starting in 2011 I am taking the next step in realizing my goal of providing embroidery education. This blog is full of potential and I am very excited about the possibilities that exist. I believe that creating embroidery should be fun and easy. I believe that by sharing my knowledge that I can help people to achieve success in their embroidery designs and projects.
Outside of embroidery I am many things to many people. Husband to my beautiful wife Lorna and father to our amazing children, Lauren, Nicholas and Reese. I play Soccer for the Paladins Soccer Club and coach all of my children's soccer teams. I love to use my camera and play with my embroidery toys. Your support of Sunset Stitches goes directly to this family and we would like to thank you very much.